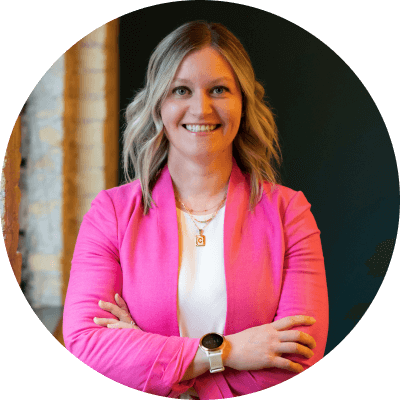 Meet Chrissy
Providing legal inspiration for innovation in education.
Chrissy Hamiel serves as Vice President of Attolles and has dedicated her practice to assisting schools on all aspects of law surrounding education. As the proud daughter of public school educators, Chrissy has always had a passion for education which uniquely enhances her understanding of, and guidance provided to, schools. Chrissy counsels school districts on challenging legal matters involving students, educators, staff, administrators, and school boards, and has been a leader in providing creative and resourceful solutions to the most challenging issues facing schools today.
Chrissy regularly works with clients to tackle the challenges that keep them up at night. On a daily basis, Chrissy advises school districts as to management and operational concerns and her skill set spans the spectrum of the challenges schools face under the current legal and political landscape. Whether it be issues related to student speech and attendance in the wake of national school walkouts, gender identity and transgender situations, athletic code and WIAA eligibility matters, employee misconduct and performance incidents, including politically charged terminations and sensitive immoral conduct situations, to providing a measured response to a Board's navigation of tricky political quagmires, Chrissy is a trusted and pragmatic resource for all a school district's needs. She is a proven school lawyer who has spent her career navigating the complex issues to best position school districts to fulfill their vision and mission in educating kids while creating opportunities for client success.
Perhaps not surprising, Chrissy's practice transcends schools and extends to other governmental entities, including counties and quasi-governmental entities. Chrissy's litigation experience extends to all levels of the state court system, the federal courts, and administrative bodies. She is also a frequent lecturer and contributor of materials to WASBO, WASDA, WASB, WASPA, and other school and government-related organizations.
Chrissy is listed in The Best Lawyers in America© in Education Law (2022), Employment Law – Management (2021-2022) and Labor Law – Management (2021-2022). She is a Wisconsin Rising Stars honoree (2018-2022).
Chrissy is a past President of the Wisconsin School Attorneys Association (WSAA) and is currently the Service Affiliate Board Member of the Wisconsin Association of School Business Officials (WASBO). Chrissy is a member of the Council of School Attorneys (COSA), as well as a member of the State Bar of Wisconsin, the State Bar of Georgia, the American Bar Association, and the Milwaukee Bar Association. Chrissy also serves as a member of the Board of Directors of St. Joan Antida High School, an all-girls Catholic high school in Milwaukee.
Education
University of South Dakota, J.D., 2007
University of Northern Iowa, B.A., 2004, summa cum laude
Bar Admissions
Wisconsin, Georgia
U.S. District Court, Eastern and Western Districts of Wisconsin, Northern and Middle Districts of Georgia
U.S. Court of Appeals, 7th Circuit, 11th Circuit
Honors/Accreditations
The Best Lawyers in America© in Education Law (2022), Employment Law – Management (2021-2022) and Labor Law – Management (2021-2022)
Wisconsin Rising Stars honoree (2018-2022)