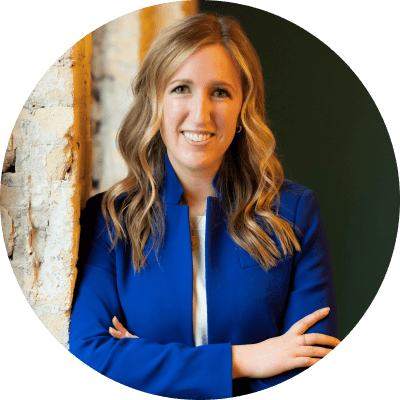 Meet Sarah
Experienced Wisconsin attorney with a focus on public school districts and charter schools.
Sarah Hanneman has spent her legal career serving public school districts and charter schools across the state of Wisconsin. Sarah's practice began working in-house for Wisconsin's largest public school district of approximately 78,000 students and 10,000 employees, where she developed a strong appreciation for the myriad of challenges facing schools today. This experience and firsthand knowledge of school district operations gives Sarah a unique lens through which she is able to evaluate the legal and practical needs of schools and find effective and efficient solutions to fit her clients' needs.
Sarah values the relationships she forms with each client, and she is well equipped to advise and advocate for her clients in all areas relevant to the running of a successful school district.
Sarah regularly handles all manner of employment related issues impacting schools, from employee discipline and grievance matters to conducting highly sensitive employee investigations and responding to discrimination complaints. She also provides counsel to school districts on teacher and administrator contract nonrenewals, drafts employee handbook provisions and employment agreements, and regularly advises administration on the legal challenges of other day-to-day employment matters.
In addition to Sarah's significant experience with employment matters, Sarah's practice also has a strong focus on serving the needs of a school district's students. Sarah works with schools to help them tackle tough issues, such as First Amendment concerns, the rights of students who are transgender, and Title IX compliance. She regularly handles pupil discipline and expulsion matters, including representing administration at expulsion hearings. Sarah also assists schools with special education issues, such as responding to IDEA complaints and ensuring procedural compliance with the IDEA and state law. She also assists districts with questions related to FERPA, the McKinney-Vento Act, and student enrollment.
Sarah also supports school clients through her work with school boards, from conducting board trainings to advising on public records law and open meetings law issues. Sarah also has significant experience with guiding districts and boards through the referendum process and in crafting alternative transportation solutions for schools.
Sarah is always looking for creative ways to resolve disputes for her clients and has completed mediation training through the Federal Mediation & Conciliation Service. She also serves as an Impartial Hearing Officer for pupil expulsion hearings as well as employee discipline and grievance matters.
In addition to her work with schools, Sarah also has experience assisting counties with a variety of matters, including involuntary mental health commitments, guardianships, and protective placements under Chapters 51, 54, and 55 of the Wisconsin Statutes.
Sarah is the current President of the Wisconsin Association of School Law Attorneys (WSAA). She is also a member of the Council of School Attorneys (COSA).
Sarah is a member of the State Bar of Wisconsin and the Milwaukee Young Lawyers Association.
Education
Marquette University, J.D., 2011
University of Wisconsin, B.A., 2008
Bar Admissions
Honors/Accreditations
Wisconsin School Attorneys Association (WSAA), President, Board of Directors
State Bar of Wisconsin
Milwaukee Bar Association